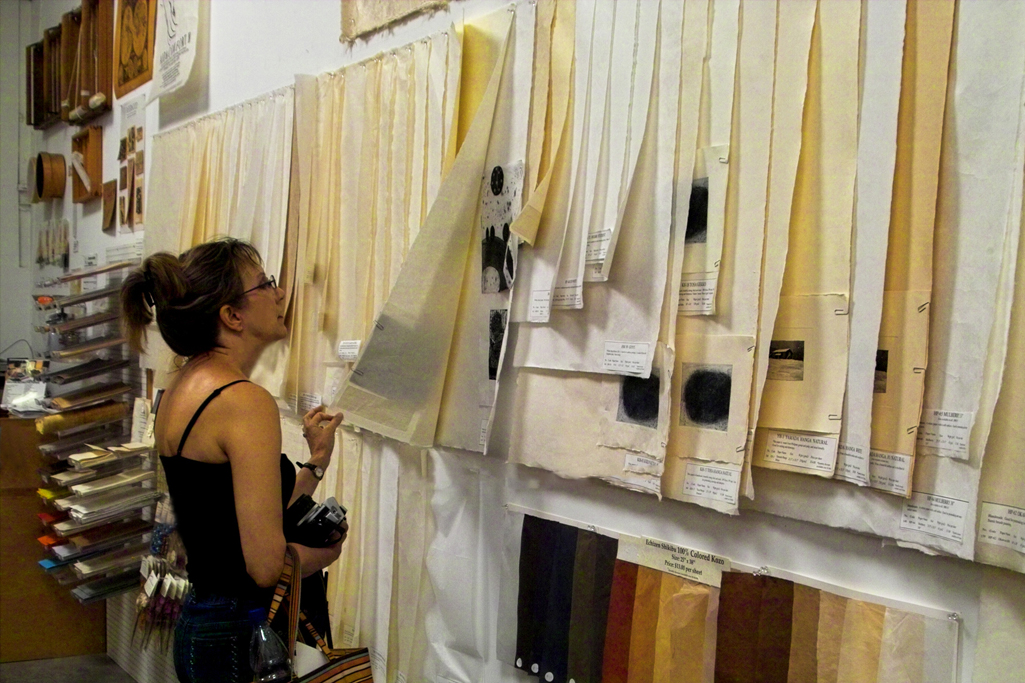 Creativity is a wild mind and a disciplined eye, says Dorothy Parker. Add a personal meaning, and you have art.
What is your background?
I grew up in a small town on the shores of Lake Michigan, went to college in Tucson, and spent ten years working as an art director in New York City on such accounts as Estee Lauder, Faberge, and Pepsico. After I returned to Arizona to teach graphic design at ASU, my husband and I established a handmade ceramic business, Lay Tuiles, and worked on projects throughout the U.S. with designers, architects, and builders. Twenty years later, I reached back to my roots and began to paint.
Describe your work and process.
The acrylic paintings are narrative—commonplace moments, small happenings, observations of my family, my friends, and strangers and the life we all live. I sometimes manipulate photos on a color copier, piece them together on canvas or board, and paint over them with acrylics. The photos are often taken in low light and I tend to skew the tone toward cool and muted, which, for me, represents the color of memories.
Influences: Pierre Bonnard, Jean-Edouard Vuillard, Fairfield Porter, Richard Diebenkorn, Ben Aronson.
Rather than examine an existing world, my watercolors inhabit an imaginary place. The figures and flowers are idealized and the work is more graphic, flat, and colorful. The Modern Woman and her setting show up as players in various incarnations. Words and phrases are deconstructed and presented pictorially.
Influences: Katy Keene comics, Herge's work on Les Adventures de Tintin, Alex Katz, Will Barnet, Walasse Ting.
In our photographs, my husband and I are mindful of the shape, color, and form around us. Captivated by the same themes and reluctant to separate our work, we're presenting the work as co-authors. Our subjects are the West and Southwest where we live, the natural and man-made beauty, relics, history, and memories. Even though the subjects vary, natural light is the common character in all of the photos.
How do your surroundings influence your work?
By giving me a sense of unadulterated joy! I'm happy in my studio, which was transformed from a kiln shed by my husband. He created a light-filled workspace nestled in a garden where time stands still.
What do you want people to take away from your work?
A feeling of familiarity.
(above) Who can resist beautiful paper? Checking out the Kozo papers, handmade mulberry bark washi or Japanese paper, at Hiromi Paper in Santa Monica, CA. I love to apply the chiri, with bits of bark, on my collages. Used to make codices since pre-Columbian times, the amate, a paper made in Mexico by pounding ficus bark by hand with a special volcanic stone, is another favorite for collage, painting, and stamping. And can't leave without a Khodi sketchbook from South India, rough, recycled, cotton rag-perfect for drawing and watercolor.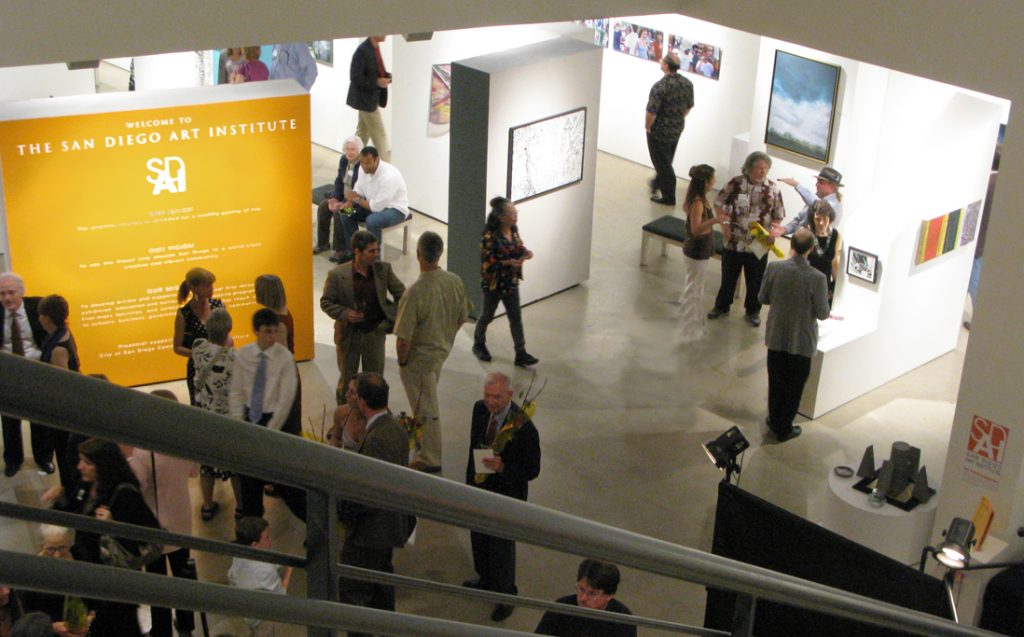 The opening reception of the 51st Annual International Exhibition at the San Diego Art Institute, where two of my paintings, Manifesto (triptych) and Couple II were shown. The paintings are both acrylic and pasted paper on canvas. The Manifesto artwork is based on photographs taken through a restaurant window on the bustling Queen Street West in Toronto and the duo pictured in Couple I and II was observed in Balboa Park, San Diego.
Museumgoers discuss my painting, Manifesto (triptych) at the 51st Annual International Exhibition at the San Diego Art Institute. I wonder what they're saying? The exhibit, which drew artists, paintings, and sculpture from all over the world, is juried by a different internationally known juror each year. The Museum of the Living Artist, housed in the aptly named House of Charm, a Mission Revival Style 1915 era building in Balboa Park, hosts this show in April when the park is in bloom.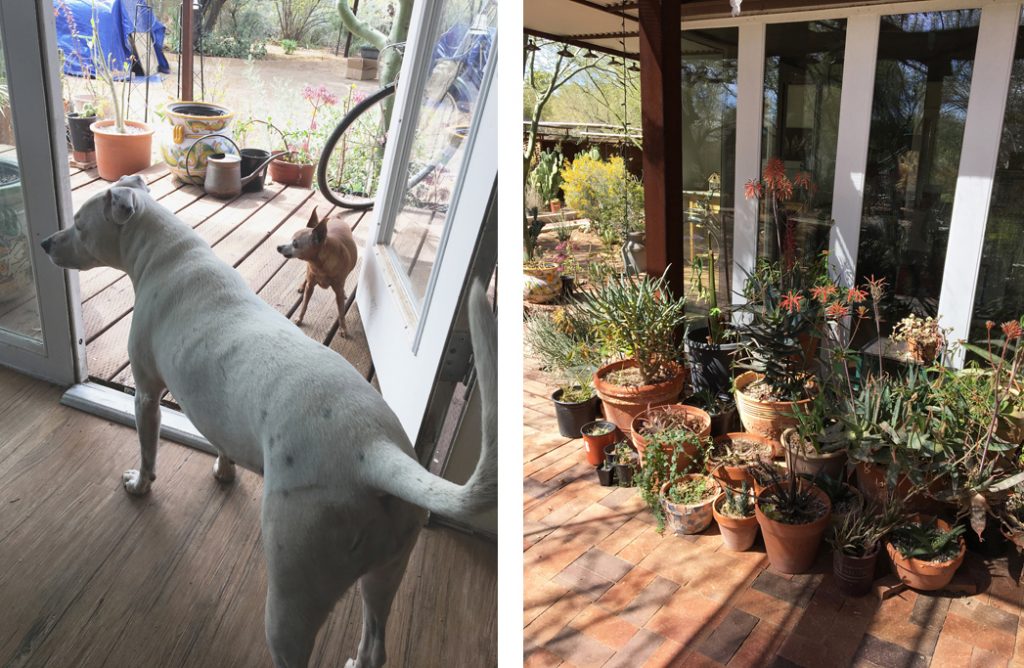 (left) Lacey and Bozley on an art studio visit. I call the studio, my beach house, even though it sits in the Sonoran desert.
(right) A variety of succulents, including Aloe ramosissima and maculata (among others), soak up the sun on my art studio porch. The south and east-facing floor-to-ceiling windows are made from recycled, double glazed, glass paned doors and allow lots of natural light for painting.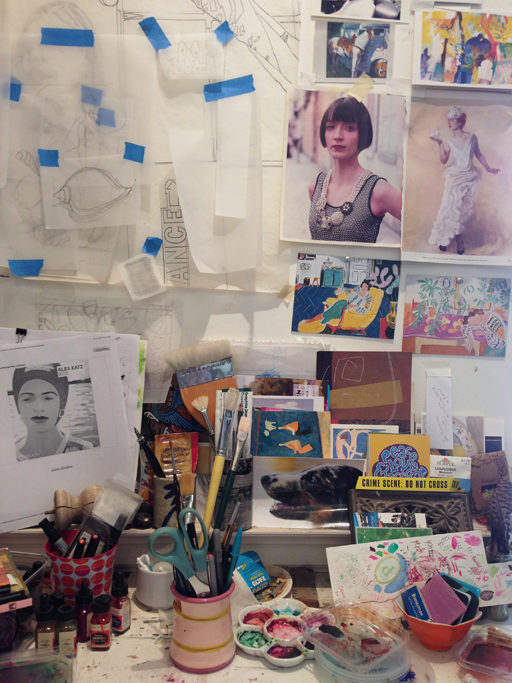 Inspiration or scene of the crime? Wall above my work table in my former studio with layer upon layer of drawings and sketches for paintings; tear sheets from Anthropologie catalog and New York Magazine; Matisse, Annora Spence, Gi Neuert, Meret Oppenheim, Alex Katz, and Robert Cao-Ba art postcards; watercolor test sheets, palettes, brushes, dyes; and a photograph of Bouquet, my aussie-border collie.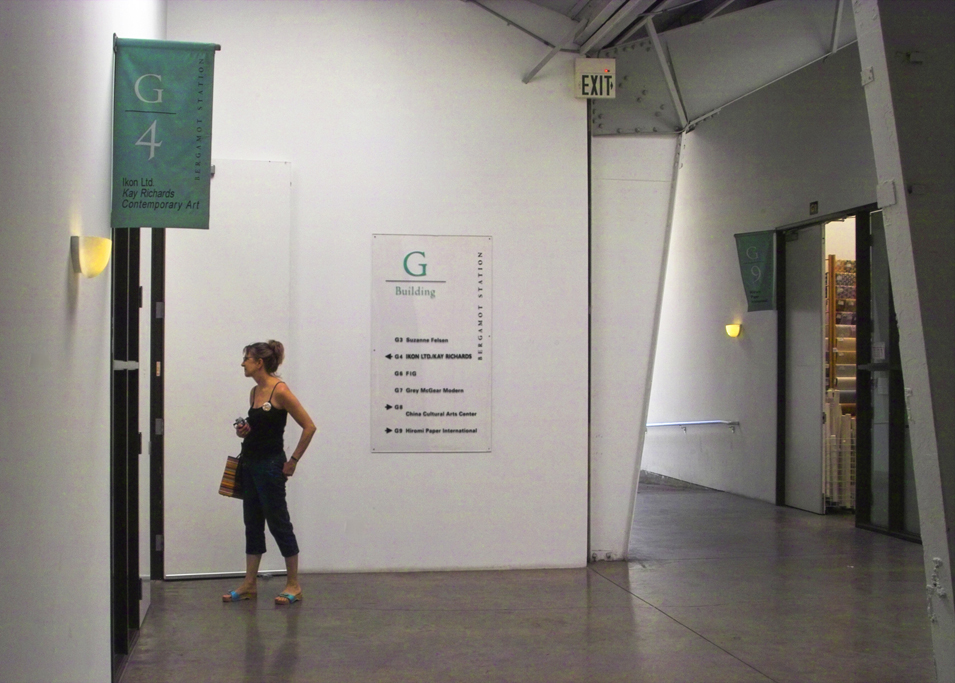 Visiting the Basquiat paintings in the Ikon gallery at Bergamot Station Arts Center in Santa Monica, CA, where the Santa Monica Museum of Art used to be based. The Station includes 30 art galleries featuring artists from all over the globe and across all mediums, with an emphasis on painting, prints, and photography. A perfect place to see lots of different art, curated with different aesthetics.
Thank you for visiting my studio
Pama Peckham Cao-Ba